All Shapes and Sizes at Meeanee – $25 a day
Day Care for all sizes and shapes offers the chance for dogs to learn some social skills and / or keep up the skills they have already learned.
They are allocated their own kennel from which they come and go several times throughout the day into our large grassed areas for play and environmental enhancement.
Dogs are grouped in similar size, age and temperament.
This day care is a great way to introduce your dog to our kennel facility so they are nicely settled when they come for extended boarding.
It is also of use to those dogs who need to let off some steam and have a good chase around.
Likewise we can accommodate older dogs who simply wish to lie in the sun or have a potter about.
Drop off between 8am and 10.30am & collection between 3.30pm and 5.30pm
Day Care at Meeanee pricing schedule
| | | |
| --- | --- | --- |
| Casual Pup | Single Use | $25 |
| Duo pup | Single Use | $40 |
| Concession Pup | 10 Day Pass – valid 6 months | $225 (pay for 10 – 1 free) |
Lollipups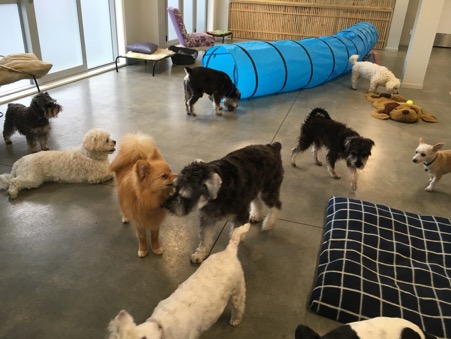 Hawkes Bays first city doggy day care. Specialising in small breed dogs. Indoor airconditioned facility offering all day supervision and free space.
Personalised walks, play time, lunch if required.
Lollipups Doggy Day Care is located at 95 Ford Road. Here we cater for small dogs and medium breed dogs height dependent.
Lollipups is open from 7.30am to 6.30pm. We offer a half day for the morning only as mid day drop offs disrupt the established play groups of the day.
The Lollipups day includes play time, walkies, and lunch if required.
We do our best to remain consistent with each dogs home rules; things such as : Are they allowed on the furniture? Do they need to sit before they cross the road? Which words do you use for them?
All attendees must be well socialised and well mannered, males need to be desexed and we do not accept any bitches until 10 days after their season has finished.
You may book online www.pet2us.co.nz or by telephoning Pet2Us on 06 844 2356 to discuss your dogs needs.
DON'T BE A LONELY PUP  –  BECOME  A  Lollipup !
Lollipups pricing schedule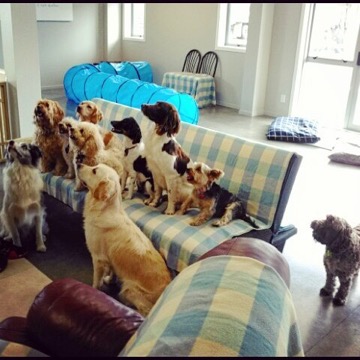 Casual Pup
Single Use
$35
Casual Duo
Single Use
$60
Pack Day Out – 3 or more Pups
Single Use
$90
Concession Pup
10 Day Pass – valid 6 months
$315 (pay for 10 – 1 free)
Concession Duo
10 Day Pass – valid 6 months
$225.00 (pay for 10 – 1 free)
Concession Pack – 3 or more pups
10 Day Pass – valid 6 months
$810 (pay for 10 – 1 free)
Concession Pup
20 Day Pass – valid 6 months
$600 ($30 per day)
Concession Duo
20 Day Pass – valid 6 months
$1,100 ($27.50 per dog per day)
Concession Pack
20 Day Pass – valid 6 months
$1,500 ($25 per dog per day)
Make a Booking Today